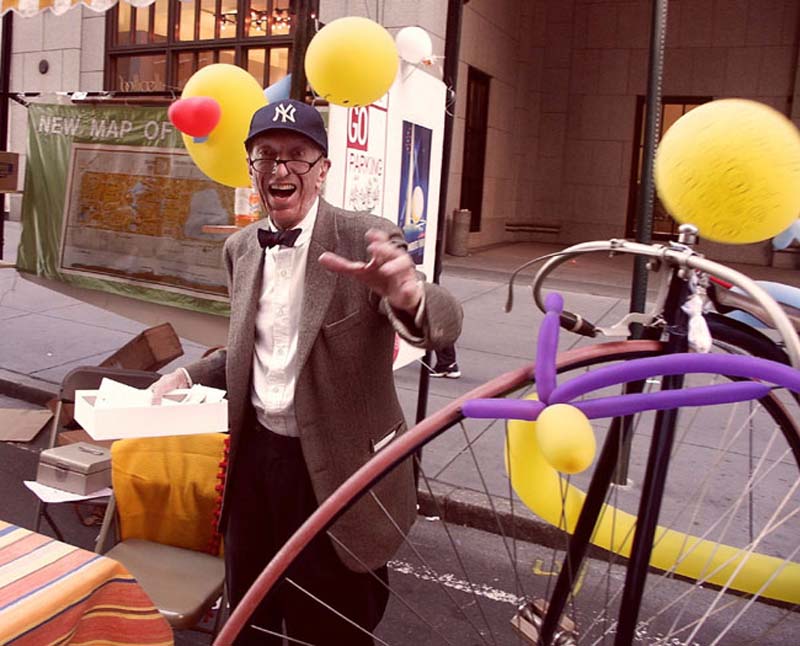 Robert Makla
Robert Makla had been baby number two at Park Slope Methodist. In his last months he was back there, helpless as a baby at age 86, till he died there this past October.
Till then, unmarried, Bob lived in the five-story townhouse he'd grown up in on Prospect Park West. He treasured the park as if it were his own front lawn, but he was happy to share it with everyone. On his fine home's ground floor, he liked to sleep on a cot surrounded by piles of ephemera: newsletters, maps, clippings, and books, all about parks and historic buildings and public spaces.
Bob was fanatic about preserving the Victorian flavor of Park Slope, Central Park, and Prospect Park. Brownstone Brooklyn may never have had its renaissance if he hadn't helped start the Park Slope Civic Council and its house tours.
Around the same time, he founded his gadfly parks-advocacy group, the Greensward Foundation, better known as the Friends of Central Park and also as the Friends of Prospect Park. Bob mostly scorned later, more mainstream organizations such as the Central Park Conservancy and the Prospect Park Alliance. He complained about what he considered the neglectful or "suburban" decisions to let plantings run wild with a "natural," instead of landscaped, look. He opposed the expansion of park ballfields, and he railed against Prospect Park having built its Wollman ice-skating rink on the site of what had been the Music Island, a small moated stage where late-nineteenth-century musicians had played to the promenaders in the park's neighboring Concert Grove. In Manhattan, Bob led a black-tie protest in the 1970s to oppose the Metropolitan Museum of Art's expansion into Central Park. He complained of contracts that favored business over preservation, such as when paths of decades-old asphalt tiles were replaced with smoother but higher-maintenance rolled asphalt, or when the more popular parks groups spent huge sums on public entertainment instead of groundskeeping.
His "Friends of the Parks" published several books and maps, including a topographic map praised by the New York Times in 1994 as having "delights past and present." The Greensward Foundation hosted slide shows on the world's parks and mass-transit systems; led early-a.m. bike rides; and organized planting, pruning, and rebuilding, especially in Prospect Park's Vale of Cashmere area. Bob led tabling at street fairs, and his booth often featured antique bikes with giant front wheels and hard rubber tires, rolled from his law office (for New York Is Book Country) or home (for Brooklyn events).
Yet despite his parks advocacy, Bob was a patrician, not a populist. He wanted the Olmstead and Vaux-designed parks to be enjoyed on their own nineteenth-century terms, not with modern adaptations. And he could not understand why high school kids weren't willing to help him crowbar stones and tree roots out of the ground. They had no sense of civic duty, he complained. Instead he sought help from homeless men and Vietnam vets, or paid for direct tree care that the parks wouldn't do.

Vale of Cashmere
I met Bob soon after I moved to Park Slope, in its park's Vale of Cashmere, where I found him furiously weeding next to a pond that had fountains and a lushly planted peninsula. He welcomed me and handed me flyers. His group, it turned out, had privately restored the Vale. Soon I was learning how to pull weeds and saplings, trim hedges, and shovel topsoil. I'd go home dirty and happy.
On nights I'd drop in on his law office on Pine Street, in one of the financial district's early great skyscrapers. Or in the mornings I'd visit his Park Slope home after a jog. His knowledge was incredible, such as which nearby house was built as a wedding present from a Bon Ami soap magnate to a daughter, or how with the help of his schoolmate Jay Gould III, Bob had kept a neighboring brownstone, a supervised ladies' residence till such single women emancipated themselves from such limits, from being torn down. He remembered seeing silent movies, under a roof cranked open to admit starlight, in what is now the Pavilion Theater on Bartel Pritchard Circle.
In the midnight hours Bob, an apparently emeritus partner in his firm, drifted through its Pine Street offices. The custodians and guards shepherded him, making sure he was safe. He was friends with lobby guards in several buildings, actually, and sometimes took me on late-night visits up and down Wall Street's old towers, showing off interior architecture such as lobby stonework, or a fire-escape balcony with a the most perfect, secret, sky-high view of all of Manhattan. Over the years Bob had added to his firm's walls many paintings of park scenes, including a tile miniature that he had commissioned, when visiting the Mideast, of a classic Currier & Ives Central Park ice-skating scene ...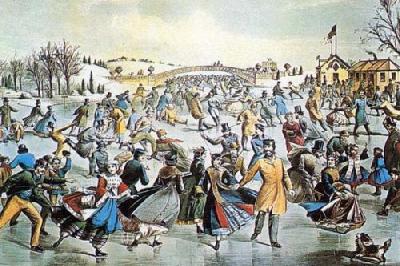 ... but instead featuring Arab men wearing billowing pants as they skated. He also bought other cities's mass-transit maps-in the form of the giant, durable posters or plaques you see hanging on train platforms--and he hanged those in the firm's offices, too. He was as excited about mass transit as he was about the parks.
Bob was also thrilled about the Internet for education. In 2000 I built him a simple Web site (http://www.echonyc.com/~parks/ , which was GreenswardParks.org till after Bob's death, when the domain name was bought by a Japanese tarot Web site) that announced upcoming tours and digitized his group's several books and maps. Though he never used the Web himself, he mentioned his group's domain name several times a day, urging everyone to read about the parks and then go to them, to immerse themselves in greenery, as he loved to do.
But eventually, after all those past projects, Bob began losing track of details. His park tours began to wander, and then eventually stopped. Years before he had led me in parks volunteering, but now I found myself organizing him, trying to keep track of his confetti of notes on Post-its and on the backs of law-firm envelopes.
His body stopped keeping up with his energy. After his first fall, I visited him a few times at home. His health-care aide was an unwelcoming sentinel, and I felt I was doing even less for him than ever as he chattered away. I stopped stopping by but still thought of him, guiltily. Then a parks-group friend called me, saying that Bob had been hospitalized. On my first visit I barely recognized him, he was hooked up to so many hoses and wires. And he was so sick that he barely recognized me.
But on my third visit, I played Sinatra for him on my laptop--he could no longer speak, but his favorite saying had always been "the best is yet to come!"--and he smiled, tapping his feet to the music. I also showed him bright, giant photos of Prospect Park and other local-landscape scenes, focusing on the areas he'd loved the most or had helped to restore. One was of the underside of the Grand Army Plaza arch, a sort of baby Arc de Triomphe, and I asked him to imagine walking underneath as I raised it above his head. He glued his eyes to all the photos as I flipped through them slowly, again and again. His family also was visiting him, but I didn't know if they'd been interested in his parks or preservation obsessions. I loved reminding him of his legacy.
Bob died the following week. The Vale of Cashmere, his favorite corner of Brooklyn's Prospect Park and the one his group restored, is once again a reed-choked ruin, the pond fountain probably off all summer and the weeds shoving between the walkway's bricks, neglected without his intervention. Despite wherever Bob has been buried, I will think of this as his resting ground.